About
Founded in 2020, Eco Cost Savings was established to provide unbiased, data-backed energy usage insights, and cost saving tips from experienced sustainability professionals.
Our Mission
Our mission is to empower sustainability at scale to help reduce energy bills and carbon footprints.
Our vision
A cleaner and more cost effective future, one incremental energy improvement at a time.
What we do and how we do it
Our Team
Our core team members are supported by our network or energy management and sustainability consultants.
James
Co-Founder & Editor-in-Chief
James is also our experienced in-house energy management and sustainability expert, and manager of our network of sustainability consultants. Before his journey into sustainability, James studied engineering. Additionally, he has experience in HVAC installation, and data analysis. A self-proclaimed practical environmentalist, and avid penny pincher, James established Eco Cost Savings to share his and his colleague's expertise with the aim of helping to reduce energy bills and carbon footprints at scale.

Read more about James, here.
James F
Content & Website Manager
James F (not to be confused with co-founder James) is our lead author, content & website manager. He has a BSc. in Digital Marketing, and a Diploma in IT. He became a qualified electrician while studying electrical engineering part-time. From wind and solar photovoltaic installers, James F worked with many certified energy practitioners and energy consultants before joining the core team. He also helped build the most downloaded energy saving app while working with a leading Utility company.

Read more about James F, here.
Grace
Operations Specialist
Grace is our operations lead, and also manages our social media channels. She's our all-rounder. From video production, research support, to graphic design, Grace is an essential part of our core team. Previously, before joining ECS, Grace worked as an office manager, and translator. Grace has certifications in Project Management, Data Analysis, Advanced Excel, and Fundamentals of Digital Marketing.

Read more about Grace, here.
Why should you trust us?
Experience
We have decades of experience under our belts. From analyzing energy usage at scale while working for utility companies, gaining behavioral insights from focus groups, and studying device-specific power consumption, we're here to share our experience with you.
Expertise
We're sustainability consultants – that's our full-time job. From environmental science, electrical engineering, electronics, and data analysis, our team has studied it all. In addition to our varied qualifications, we have the practical expertise too – we've consulted, delivered detailed reports, and implemented sustainability changes through our qualified in-house electrician.
Independence
We deliver unbiased insights. We don't do paid reviews, do not accept sponsorships, and have not accepted any free products so we avoid potential bias. These are very common practices online, which became apparent to us since starting this website. Insights, study results, and any highlighted products are delivered independently and without influence.
Transparency
We're transparent about what we do, why we do it, and how we do it. On this note, below we detail how we make money to support this website, and where we get our data from. Previously, we made the data from our studies available to download for free, but we've now chosen to provide sample data only. We saw websites popping up that leveraged this data and, unfortunately, they appeared to highlight less efficient products (likely for financial purposes).
Featured In
From MSN to the Institute of Electrical and Electronics Engineers, Renewable Energy Magazine to the Issues in Science and Technology (by the National Academies of Sciences, Engineering, and Medicine and Arizona State University), our research and insights have been featured in many locations.
How we test
Here's how we test energy usage and find the most efficient models.
Still have questions?
If you have any specific questions do reach out to us. Our contact details are above. Alternatively, use the contact form, here.
Latest
Smarter decisions about your appliances can reduce your bills and impact on the environment.


Electricity Costs
See how much it costs to run your appliances, and what impact all appliances are having on the environment.


Energy Saving Tips
Reduce your electricity bills while reducing your carbon footprint.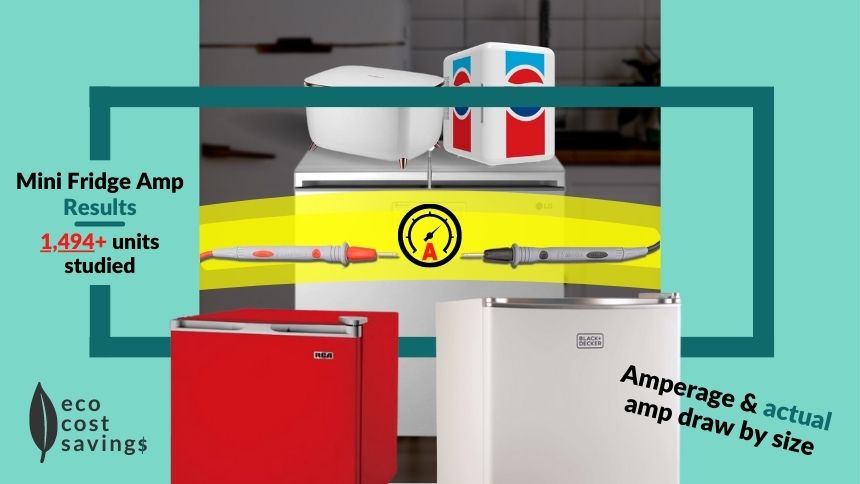 How many amps does a mini fridge use? Find out, here, from the most comprehensive mini fridge amp draw study. Plus, you'll find the most standout low amp mini fridge models.
How many watts does a mini fridge use? Find out here, and get low wattage mini fridge insights. Plus, see which is the most energy efficient mini fridge on the market.