How many watts does a box fan use? See the average & get a breakdown of wattage based on size. Also, get the wattage of over 40 of the most popular and efficient box fans in 2022.
---
Box fans are some of the most efficient appliances for cooling. But how efficient are they and which is the most efficient? I've researched the wattage of close to 100 of the most sold box fans in the US. Here are the results.
On average, box fans use 73W of electricity at full speed. Smaller box fans use 27W, while 20 inch box fans consume 86.5W on average.
The watts consumed reduces at lower speeds. Continue reading to see how much watts are used at lower speeds and get details about the most popular and most efficient box fans on the market today.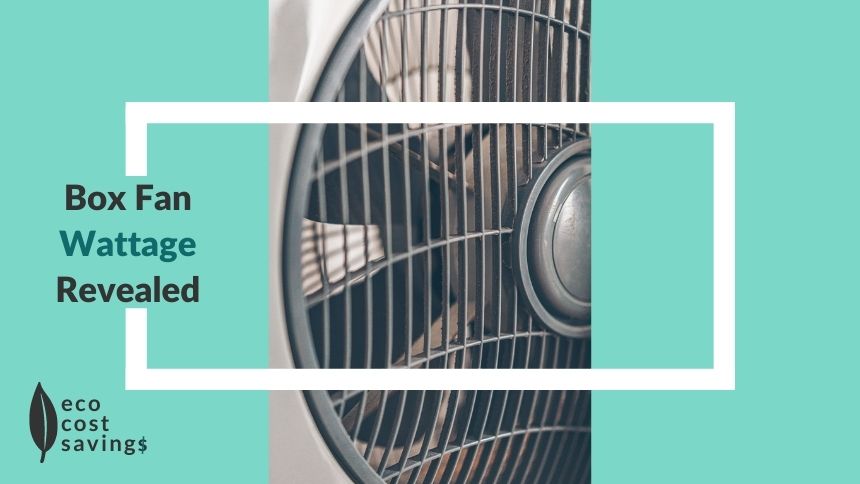 If you're interested in the running costs, check out my recent post: Cost To Run A Box Fan.
How many watts does a box fan use?
The wattage of box fans varies considerably. Larger box fans operating at full speed consume substantially more watts than smaller box fans.
For this reason, I have focused the research on the most popular box fan sizes and broken the results down into 3 categories: overall results, results for 20" box fans and results for box fans that are 10" or less.
The wattage for specific box fan sizes and models are detailed below.
But first, let's look at the overall results.
Overall, regardless of size, box fans use 73W on average at full speed. This drops to approx. 47.3W at the lowest speed setting and 59.5W at medium speed.
The most common box fan power rating identified in the research was 100W. 5W was the lowest recorded wattage, while 220W was the highest.
On average, based on research into actual power consumption at different speeds, box fans use 64.84% of its power rating at its lowest speed setting and 81.53% at its medium speed setting, if available.
The most common size box fan recorded was 20 inches. These fans use more watts than average due to their size. So let's look at results for these in isolation.
How many watts does a 20 inch box fan use?
On average, 20 inch box fans use 86.5W at full speed. At lowest and medium speeds, 20 inch box fans use approx. 56W and 70.5W respectively.
The lowest recorded wattage in the research was Genesis' 20″ Box Fan at 53W. The highest recorded wattage was 220W.
The most common power rating for 20 inch box fans is 100W.
The average CFM (this stands for cubic feet per minute and refers to how much air a fan moves) recorded was 1,750. This is a crucial consideration when choosing an energy efficient box fan.
Most efficient box fan and editor's choice
At 60W and with a CFM of 2,294, the Brentwood 20 in. 3-Speed Box Fan appears to be the most efficient box fan. The CFM figure was sourced from Home Depot, here.
However, given lower watts used, the ratings, reviews, features and value for money, I'd recommend the Genesis Box Fan. Despite its very low power consumption (the lowest 20 inch box fan wattage recorded) it still achieves an above average CFM of 1,800 – more than enough for the vast majority of people.
Also, it's very competitively priced – check out the current price on Amazon, here.
How many watts does a small box fan use?
Based on research into nearly 100 of the most popular box fans, smaller box fans (i.e. those less than or equal to 10 inches) use 27W on average.
The lowest recorded wattage for small box fans was 5W, while the highest was 45W.
Interestingly, the lowest wattage box fan recorded is slightly lower than the lowest recorded tower fan wattage (6W). For more details, check out the Tower Fan vs Box Fan section, here.
To see how box fans compare with ceiling fans, don't miss the Ceiling Fan vs Box Fan section, here.
Related post: Fan Wattage, Efficiency And Cost To Run [Fan Types Compared].
Reduce electricity costs and carbon footprint
Cooling households accounts for a substantial amount of electricity consumption in the US.
EIA notes that "the residential sector's electricity use for cooling was about 226 billion kWh in 2019, which was equal to about 16% of total residential sector electricity consumption and 6% of total U.S. electricity consumption."
226 billion kWh is equivalent to running 41 coal-fired power plants, yearly.
The use of box fans is one of the more efficient modes of cooling. Choosing to run a box fan instead of your AC will save you money while also reducing your carbon footprint.
To reduce your electricity costs even more, consider using smaller box fans or more efficient models. Check out my recent post to see the electrcity cost of box fans and get 6 easy tips to reduce your costs and carbon footprint.
If you're looking to buy a box fan consider the CFM and power consumption along with your specific requirements.
I'll be going with the Genesis Box Fan for my next box fan purchase as it suits my needs – cheap to run, has a lower environmental impact, it's efficient, feature rich and has a good CFM.
For convenience, I've listed the wattage, CFM and links for a number of box fans below. I hope it's useful on your hunt for an efficient box fan.
Wattage of the current (as of writing in 2022) most popular box fans on Amazon
See the up to date best sellers on Amazon, here.
Wattage and CFM of the most sold box fans on Home Depot
Data source
While these tables don't reflect the whole data set, I hope they are of some help with your mission to keep cool, efficiently.
Speaking of keeping cool, do you know how much it costs to run your refrigerator? Your fridge runs 24 hours a day, 365 days per year – you might be surprised by the electricity costs. Check out the cost of running a refrigerator and get 9 simple cost saving tips.
But what about the cost of running a box fan? See the hourly, daily, weekly & monthly cost to run a box fan here. There's a useful calculator that can help you work out your own box fan running costs and also included are 6 easy tips to reduce your costs & your carbon footprint.